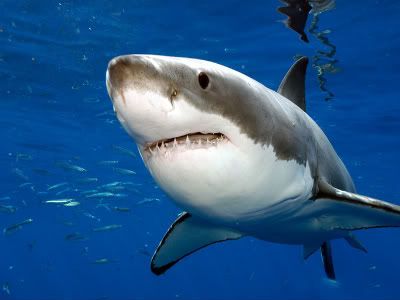 SLEEK AND POWERFUL, the great white shark cruises effortlessly through the seas in search of prey. The largest flesh-eating shark, it eats mainly seals and sea lions, and spends most of its time in coastal areas and around reefs where prey is plentiful. Armed with ferocious teeth, it attacks with deadly speed, yet despite its reputation, it rarely attacks humans. The great white shark roams temperate and tropical seas and oceans around the world and has no enemy other than man.
The great white shark usually patrols the water alone, swimming slowly just above the sea floor or close to the surface. Some sharks seem to return to the same feeding grounds annually and show signs of aggressive behaviour around other sharks, as if defending their territory. It is noe believed that some of their swimming behaviour is aimed at guarding their personal space, such as the cautiously-timed 'turn-aways' between two sharks converging on the same point and when two sharks 'parallel-swim' keeping a set distance between them.
The great white is capable of short bursts of great speed and can jump 2 m (7 1/2 ft) out of the water in pursuit of prey. It often does a test charge on unfamiliar prey, bashing it with its snout to assess it. When it senses movement or blood, the great white changes direction and swims upwards, homing rapidly in on its prey. Just before impact, its eyes roll back in their sockets and its jaws open wide. Striking at top speed, it tears off a chunk of flesh that it swallows whole. If the prey is large, the shark turns away and waits for it to die before returning to finish it off.
Male great white sharks have two claspers below their tail that they use to inject sperm into a female. In the uterus, the young shark feed on unfertilized eggs and other embryos, and they even swallow their own sets of teeth after they have been shed. When they are born, they are already about 1.5 m (nearly 5 ft) long and can swim straight away. The mother usually gives birth in shallow waters where the young will be relatively safe from other sharks but otherwise she does nothing more for them.
The great white shark is now very rare, yet many are still slaughtered every year. It is killed primarily to make shark fin soup, but in some countries it is caught for sport and is often accidentally trapped in gillnets. Increasingly polluted seas are also a threat to the great white shark, worldwide. It is now a protected species in south Africa, California, the Eastern USA and Australia.
Status : Vulnerable
Length : Up to 6.4 m (21 ft)
Weight : 2 tonnes (4,409 lb)
Sexual Maturity : Females, 12 - 15 years; Males, 9 - 10 years
Breeding Season : Spring to late summer
Gestation Period : Estimated at 1 year
Number Of Young : 7 - 10
Diet : Seals, sea lions, large fish, dolphins
Lifespan : Estimated at 30 - 40 years